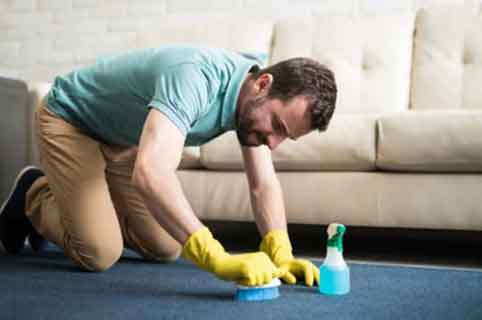 How Can You Deep clean a rug & Make It Look New Again?
Want to restore the freshness of your rug, making it stay new for a longer time?
We all agree that rugs greatly add to the overall look of any room and are never out of trend. With time we all have witnessed that rugs lose their fresh look and start fading that's because of the dust and dirt accumulated in the rug fabric. For rug cleaning, a vacuum only is not enough. It requires a lot more care, and the rug deep cleaning does seem like an arduous task. Don't worry; this blog provides a detailed step-by-step guide to deep cleaning the rug, making it a lot easier.
Before starting with the rug cleaning
To deep clean a rug, you need to start with scheduling a rug cleaning day. On a scheduled day, begin with gathering all the tools required, such as:
Water
Bucket
Soft-bristle brush
Shampoo
Sponge
Rubber gloves
Vacuum
For a different type of rug, you need to follow other rug cleaning methods, so you don't end up damaging or decolouring it. To select the correct approach to deep clean a rug, you need to identify the material, check, and follow the manufacturer's instructions. Following are some tips and techniques you can follow to deep clean the rug quickly.
1. Remove Dirt And Dust From The Rug
First, you need to thoroughly vacuum your rug to get rid of all the dust and dirt. Once you are done cleaning one side, turn it around and vacuum the other side to eliminate maximum dust. If you have pets at home, you can use a brush attachment of a vacuum or whichever brush you usually use to remove pet hair trapped in the rug fibres. 
Note: Use a brush with soft bristles to remove pet hair; otherwise, it can damage or tangle the rug fibres.
Woven or Braided Rug Cleaning
If Washable:
Some braided rugs are washable; check the tag
If it is washable, put it in a zippered pillowcase or laundry bag
Wash it with cool water on a gentle wash setting
If Not Machine Washable:
Prepare rug cleaning solution with rug shampoo according to the instructions given on the bottle.
After removing dirt and dust, take a cleaning sponge and gently rub the solution following product instructions.
Rinse or vacuum it
Dry
Wool or Cotton Rug Cleaning
Wool rugs are always popular but require great care to maintain their look. To deep clean a rug made of wool or cotton, you need to follow the following strategy:
Remove dirt, dust and pet hair
Prepare a solution using a wool small amount of specific carpet shampoo and cold water. ( you can also use non-bio laundry detergent instead of shampoo but ensure testing a small area before using it)
Use a microfibre cloth to gently rub the woollen/cotton rug on the solution.
Note: Be careful while rubbing the rug so you don't get it completely wet.
Repeat the same process with the water to remove the cleaning solution from the rug.
Once you are done, use a clean cloth or plain towel and blot the rug to remove all the moisture absorbed in the fibres.
Allow the rug to dry completely by hanging it or using a fan.
Jute rugs add a perfectly natural look to your rooms and perfectly go with the wooden floors. But they cannot be cleaned using the same method you use to clean other carpets and rugs as you can't use cleaning solutions or carpet shampoos to clean jute rugs. To deep clean a rug made of jute material, you need to use dry shampoo. The dry cleaning method also works best for jute rug cleaning.
Fur and sheepskin rugs require meticulous cleaning to stay in good condition and don't shrink.
Prepare a cold water and sheepskin specific detergent solution.
Note: Warm water can damage fur or sheepskin rug.
Put the rug in a solution for a few minutes to remove all the dirt accumulated in the fur.
Rinse with clean water to remove the detergent solution.
Pat dry it using a clean towel to remove excess water as much as possible.
Allow it to air try.
Note: Do not use heat to dry fur or sheepskin rug
When the rug is almost dry, use a sheepskin brush on it.
You can also use a clean cotton cloth dipped in a detergent solution to wipe off dirt and spills if you don't want to wash them. And then rinse with a cloth dipping it in clean water. After cleaning, allow to dry it thoroughly.
Rush, Sisal or Grass Rug Cleaning
Rugs made from materials like rush, coir, sisal or grass are a common choice these days for welcome mats. Cleaning them is very easy as vacuum cleaning them from both sides and changing sides of these reversible mats can easily keep them clean.
Water is not suitable to clean viscose rugs; therefore, to deep clean a rug, you cannot make it wet as it will damage the colour of the viscose rug. Instead, you can use a brush with soft bristles to gently wipe all the dirt. Finally, you can use a clean cloth to remove stains and blot the spot.
Removing Smell from the Rugs
Steam cleaning is a very effective method to make the rug fresh and get rid of stubborn smells. You can also use white vinegar and water solution to remove any pungent smell from the rug and then pat dry it.
If you are looking for deep domestic cleaning services, Clean N Clear is the right choice. We have trained cleaners who provide deep domestic and commercial cleaning services in Sheffield. You can schedule your tasks on the days and times of your choice. Contact us now.