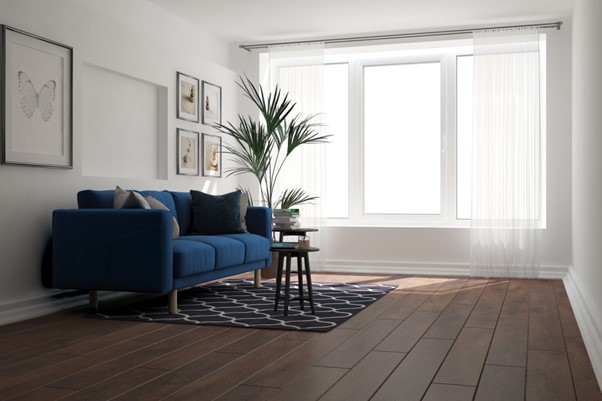 How To Do Laminate Floor Cleaning Without Damaging It
Laminate flooring is commonly installed due to its cost-efficient, easy installation and rich look properties, which adds a great appearance and sleek look to your house. Though it requires regular cleaning and maintenance to keep its shine for a longer time, and if not cleaned the right way, it can take away the shine or make it gritty.
Wondering how can you preserve your laminate floor for years? This blog will provide you with professional laminate floor cleaning tips, which you can make a part of your regular cleaning routine to make your floor clean and sparkling.
Effective Methods for Laminate Floor Cleaning
The first and most crucial thing to remember is that even though your floor appears clean, it still accumulates dust and grit that may not be apparent on the surface. Secondly, each type of flooring is unique and requires a specific cleaning strategy for optimum cleaning and protection against damage. Following are the most effective laminate floor cleaning methods for regular cleaning of your floor to save your laminate tiles from getting dull or damaged:
1. Vacuuming to get rid of dirt and grime
Due to dust and grime, your laminate floor gradually loses its original shine and fresh appearance. Running a vacuum for regular cleaning is the most efficient and convenient way which keeps your floor looking new. It is recommended to use a vacuum since it can eliminate debris from every nook and cranny that a brush or sweep could find challenging to reach. Use the hard floor option on your vacuum if it has one to clean laminate floors, or disable the rolling brush mode to prevent floor scratches.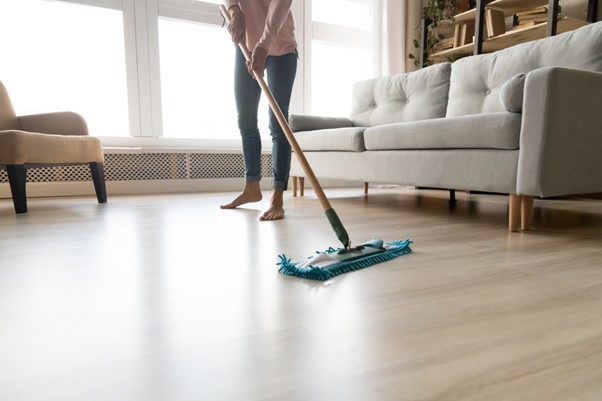 One thing which can save your floor from damage is using a dust mop rather than a standard floor brush with stiff bristles for floor cleaning that can cause scratches on the surface. To remove the dirt and debris, sweep along the direction of your laminated tiles. You can also use a vacuum with a soft brush attachment to remove excess debris and dust. Also, avoid using a wet floor mop for laminate floor cleaning, as moisture can get absorbed in the inner layer, causing cracks and damage to the tiles. Using a wet mop or steam cleaner also has the drawback of spreading dirt and grime throughout the floor, which makes the surface sticky and much worse. Therefore using a microfibre cloth or dust mop is the most convenient method for regular cleaning.
3. Clean any spills on the floor
Preventing moisture and spills from damaging laminate flooring is one of the most crucial things you should do. Make it a habit to wipe up any liquid spills right away with a sponge or microfiber cloth. This will prevent the moisture from damaging the protective layer of the floor and getting into the inner layer, which can cause cracks.
4. Using a cleaning solution
Laminate flooring is not as strong as other types of flooring; it is very delicate and can be damaged easily if cleaned with harsh chemicals or abrasive cleaners. For deep floor cleaning, you can use any mild detergent solution or cleaners available in the market specifically for laminate floors that won't treat the surface harshly.
Use a damp cloth to wipe away all the dirt, and for deep cleaning, you can also prepare a floor cleaning solution at home. These are a few ways suitable for laminate floor deep cleaning.
Vinegar is known for its natural disinfection properties and is effective for deep cleaning the floor. Pour ¼ cup white vinegar into 1000 ml water. Put the solution into a spray bottle to use easily, or use a mop for this purpose. Wipe the solution immediately, as dilute vinegar can still harm the floor's protective coating if left for longer.
b. Rubbing Alcohol Solution
Another effective method to remove stains and deep clean your laminate floor is rubbing alcohol solution. The quick evaporation characteristic of rubbing alcohol makes it the best way to clean laminate as it mitigates chances of absorption in the floor or causing any sort of damage. Take one cup of rubbing alcohol and mix it with one-gallon water. Then, spray the solution on the floor directly or use a damp cloth to remove stains and dirt and wipe it dry with a microfibre cloth.
Ensure the water you use to clean the laminate floor is not scorching hot and the cloth you use is thoroughly wrung out before cleaning because excessive moisture might leave a stain or, perhaps worse, harm the surface's protective layer. Just mildly damp cloth with the cleaning solution, and you are good to go. It can easily remove any surface stain, germs and grime without risking any harm to the surface. Following that, wipe the floor with a microfibre cloth to absorb any water or solution left on the floor.
Common Laminate Floor Cleaning Mistakes and Tips to Avoid Them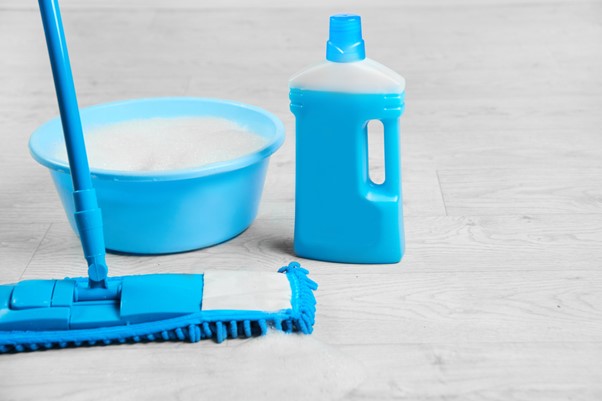 Ensure the use of door mats to protect your floor from dirt that can make it dull. This will make your regular cleaning easier.
Using the wet mop method is one of the most frequent floor cleaning mistakes that can severely damage your laminate flooring.
Ensure regular cleaning of your floor to increase the life of your laminate floor.
Do not use an abrasive cloth for wiping the laminate floor, as it may scratch the surface.
Avoid using wax or polish on a laminate floor; it will reduce the life of your floor.
Do not use abrasive cleaners on the laminate floor, as they can damage the protective finish of the laminate flooring.
Using harsh chemicals can make your floor look dull; therefore, always go for lukewarm water or mild cleaners.
Do not use cleaners that promise shiny surfaces; such cleaners mostly leave residues or greasy buildups on the surface.
Ensure protection from direct sunlight by using blinds, curtails or floor mats to prevent the laminate from getting dull.
Looking for Professional Cleaning?
Clean N Clear provide the most professional deep and regular cleaning services. Our regular cleaning services include window, carpet, upholstery, kitchen, oven, and floor cleaning. For getting customised regular cleaning services contact us and let the professionals take care of all your cleaning needs.