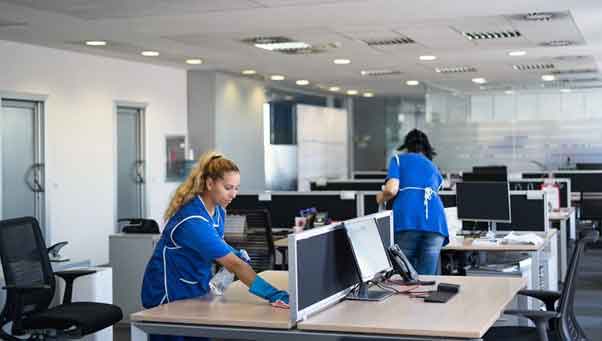 7 Easy Tips for Office Cleaning & Decluttering
Keeping all the stuff scattered in your office can negatively impact your productivity and damage your reputation. To boost your employee's work efficacy and create a good impression on your clients, you must ensure everything in your office is clean and organised. On top of this, your employees spend most of their time in the office, and if you do not ensure regular office cleaning, it builds up a lot of dust, dirt and bacteria on every surface, making your office unhygienic.
Here are some tips from our office cleaning professionals to easily make your office clean and organised. You can use these office cleaning and decluttering tips to give yourself and your team peace of mind and your office a better outlook.
1. Create Enough Storage Space
Effectively use your office space to store all the documents and stationery. For that, divide all things into categories, and you can use binders, dividers, shelves and drawers to organise stuff. Don't forget to label every space assigned for items, so you don't waste time finding the required things. To reduce paperwork, you can keep scanned copies of all documents digitally on cloud-based storage.
To clear the extra mess from your office, you need to make an office deep cleaning routine at least every month. Numerous things in every office do not belong there and are useless; you can eliminate this clutter and make room for other useful stuff. Create a habit of decluttering your office cabins, stores and desks at least every week before they accumulate and become a bigger mess to tackle. Create a pile of all the extra stuff and assess if you need to discard or store them, and get rid of all the items that are useless.
The office has numerous cable networks everywhere, which makes your office look messy and disorganised, which also interferes with your routine work. Entangled cables and wires take up more space on your desk, so make sure all the cables are organised and tamed. The best way to keep your loose cable organised is by using cable ties and labelling each wire. Ensure to unplug all the extra wires from the power board and try to mount all the powerboards to the desk.
4. Organise Files Effectively
The most effective way to organise your documents is by categorising and using files, binders, boxes, dividers, and separate storage space for each category. This can be made easier using labelling and effective use of colour coding. Keep every document you might need close to you, and all the other stuff should be stored in a separate storage space to make important documents more accessible.
 And make a habit of filing papers at least twice a week to avoid an overwhelming pile of papers everywhere. Re-evaluate documents you need to keep or discard now and then to create more storage space.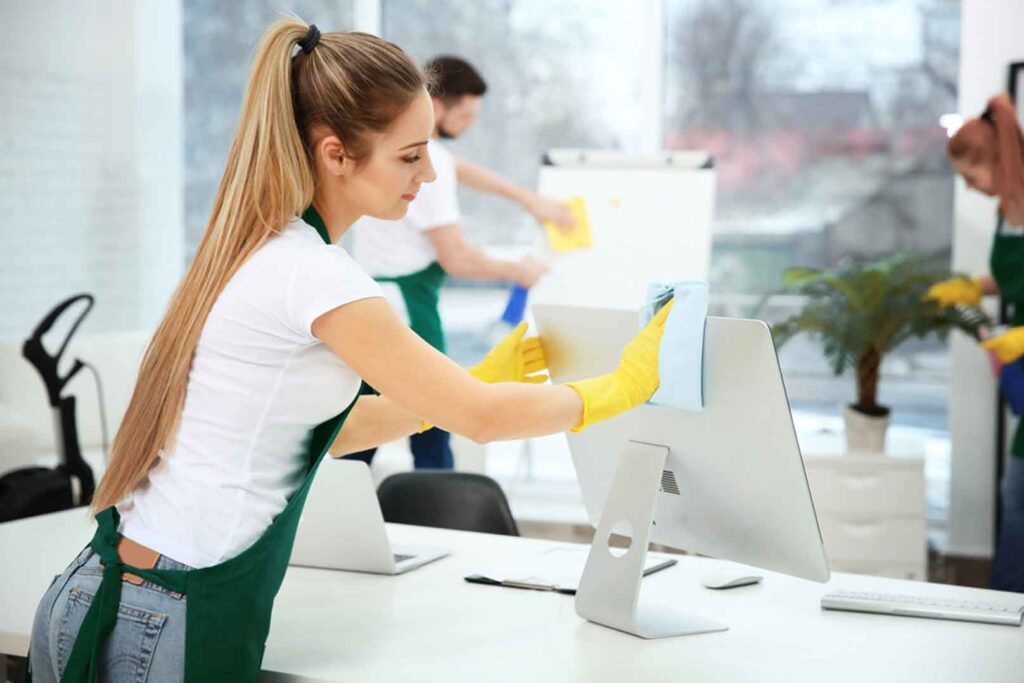 Once you finish organising your files, it's time to clean the desks. Start from scratch, remove everything from the desk, and thoroughly clean the surface and other equipment. Once you are done with that, determine which items you regularly need, and make piles of things you need to keep, archive and junk. And then, deal with each pile accordingly; this will help you get rid of clutter on the desk and make your regular office cleaning easier.
Cleaning is not that problematic; maintaining a clean office is the hardest part. As it is a shared space used by so many people daily, even if you ensure regular office cleaning, you must have noticed it still gets cluttered soon after clean-up. That's why it is essential to analyse your office space and effectively use extra spaces to store extra stuff. Do not keep everything in the tables, desks, and drawers; ensure all the stuff that is not required regularly is stored on separate shelves to keep your office clutter-free.
7. Ensure Regular Office Cleaning
Take some time out of your office routine and ensure regular office cleaning. Start your day by cleaning all the surfaces, including desks, drawers, shelves and floor. Remember to wipe off your keyboard, mouse, desktop, desk and drawers, and ensure every surface is cleaned by a sanitiser daily.
Looking for a Professional Office Cleaning Team?
Keep these tips in mind to keep your office space organised and clutter-free so your staff can work smoothly and productively. To ensure regular office cleaning, hire professionals who can take care of everything you need. Clean N Clear is known for its professionalism and dedication. We offer professional office cleaning services with customised cleaning schedules and services to meet all your needs. For spotless office cleaning, contact us!