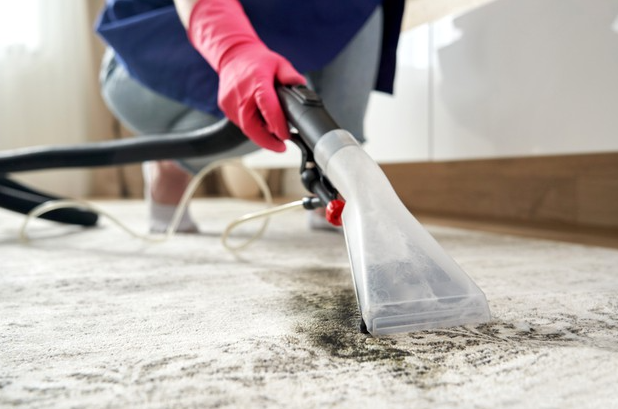 HOW CAN YOU CLEAN YOUR CARPET?
Today, many carpet cleaning and rug cleaning services are available as carpeting is famous worldwide due to its rich looks, warmth, and softness, though its maintenance can be challenging and laborious. Carpet requires frequent cleaning and vacuuming also occasional deep cleaning can help you keep your carpet looking new and clean for a long time. But no matter how much you try to keep carpets clean, they still somehow become a victim of dirt, spills, liquid splashes, and stubborn stains. Using professional carpet cleaner can be really helpful. Several domestic cleaning companies offer carpet cleaning services at affordable rates, but obviously, you can choose to do it yourself.
There are also a variety of carpet cleaners that make stain removal and carpet cleaning easier.
This blog intends to provide to easiest carpet/ rug cleaning techniques to make it look new without much effort and heavy machinery.
HOW TO REMOVE DUST AND DIRT FROM THE CARPET?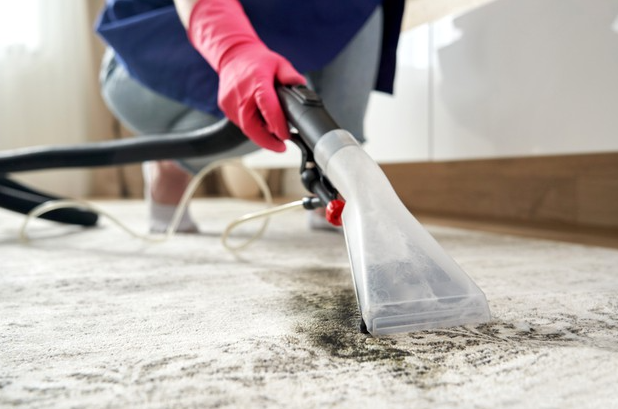 No matter how hard you try to keep your carpet free from dirt and dust, it still finds its way to your carpet and if you have pets or children it can even get worse. To clean dirt from your carpet you can adopt any of these easy methods. First, you need to wait for mud or dirt stain to get dry if it is rainy or snow season. If you try to clean wet mud and dirt there are chances that by rubbing mud, it gets more deeply stuck in your carpet's fibre, so it is better to let it dry and then clean. Once it's dry, it becomes easy to remove it with a vacuum or brush. For rug cleaning, it is better to lift the rug up and also clean the dust accumulated beneath it.
Cleaning with a vacuum is really easy, but it is more effective in removing dust if you clean slowly, and move the vacuum in all directions multiple times on the areas where dirt is visible. By carefully vacuuming several times on the same area allows the vacuum to suck all the dirt and dust stuck in your carpet.
 If you want to remove dirt using a brush, you can make it more effective by wrapping the brush bristles with a rubber. Rubber makes bristles harder and firm allowing it to remove dirt embedded deep in your carpet. You can collect dust and mud using a dustpan.
HOW TO REMOVE STAINS FROM THE CARPET?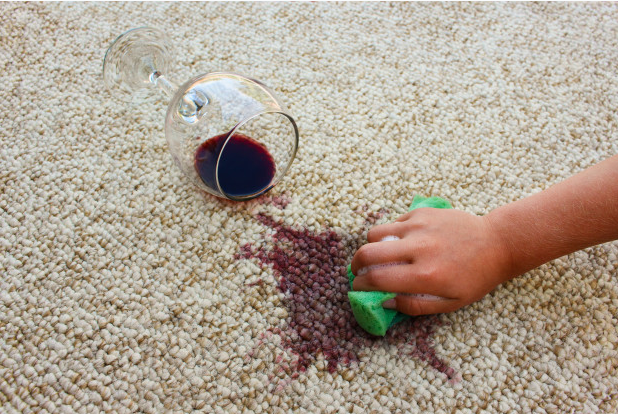 Stains and spills are very common especially in a house with kids, and some stains are so stubborn that it seems impossible to remove them like wine spills and food stains. Our biggest mistake to immediately start rubbing and scrubbing to remove the stain.
Rubbing a wet stain can drive it further into the fabric,  it is better to take a clean cloth, sponge, or paper towel and dab stains gently so that a dry towel or cloth can soak the stain from the carpet. To clean the stain start with blotting the stain from outside to reduce the chances of spreading it further.
 Once you have done blotting you can use different methods to remove stain from carpet like:
Carpet cleaners can be very helpful in removing stains from the carpet but do read the directions given on the carpet cleaner before using it. Use such products following all the instructions for better results.
Club soda can prove very effective in making stains lighter and easy to remove. Pour some club soda on a cloth or paper towel and blot the stain until the stain is removed or becomes lighter. If the stain is not completely removed you can repeat using more club soda.
THE MIXTURE OF WATER AND VINEGAR:
Mix one to one ratio of vinegar (white) and water and spray it on the stain. Leave it for 10-15 minutes and then soak the solution from the carpet using a sponge or towel. If the stain is not completely removed, you can repeat this method too.
Once a stain is removed use a brush and warm water to clean it further, and then use a paper towel or clean cloth to absorb dampness from the carpet. 
HOW TO REMOVE GREASE FROM THE CARPET?
Greasy stains are the most difficult to remove from a carpet: sometimes even products like carpet cleaners can be proved ineffective for such stains. One easy hack to deal with of this kind is:
Dish soaps have grease and oil cutting enzymes so it is the most effective way to remove greasy stains from your carpet. Pour few drops of dishwashing soap into warm water and mix the solution. Spray that dish soap solution on the stain and then blot it with a towel or cloth. You may have to repeat the process multiple times if the stain is bigger and deeper into the carpet.
HOW TO REMOVE CHEWING GUM OR WAX FROM THE CARPET?
Dealing with chewing gums or wax on carpet seems like a nightmare, but it can be removed with a simple trick. Use an ice cube against the gum for almost 1 minute, which will solidify it. Once it is frozen, use a wooden spatula, scissors, or sharp knife to remove the gum. Remove it carefully so that you don't end up damaging your carpet or rug.
Another way to remove candle wax or hard wax is using heat. Place a cloth of the wax spot and put an iron on it (without steam). Once the wax is soft, remove it using a knife or strong wooden spatula.
HOW TO DISINFECT A CARPET WITHOUT DISINFECTANT SPRAY?
Disinfecting your carpet and rugs is really important especially when you have pets or kids in your home, as carpet fibre can become home to germs very easily. To disinfect your carpet without the disinfectant spray, mix one-part white Vinegar with three parts of water and spray the carpet then brush it well. You can also soak the brush into the solution and clean the carpet for disinfection. Blot with a paper towel or cloth to soak the moisture from the carpet.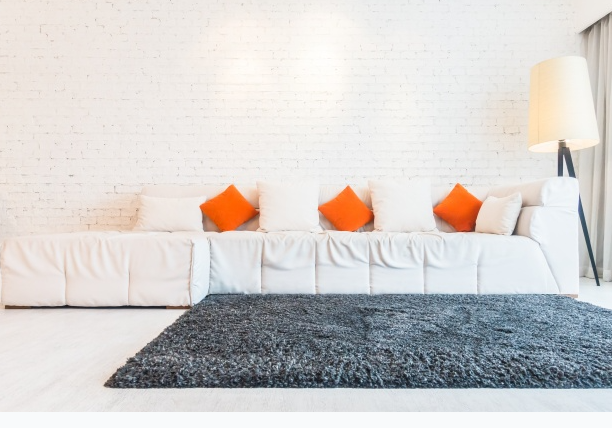 To keep your carpet clean, you can also use a carpet steam cleaner, which will leave your carpet looking new. This will also thoroughly clean your carpet, removing every bit of dust and dust. Regular cleaning of a carpet is really important and professional rug cleaning and carpet cleaning services can be a great option to keep your carpets/rugs looking fresh for a longer time.
If you are looking for carpet cleaning services in Sheffield, Clean N Clear provides you with premium quality carpet cleaning service at affordable rates. We also provide reliable disinfection services along with rug cleaning and carpet cleaning services