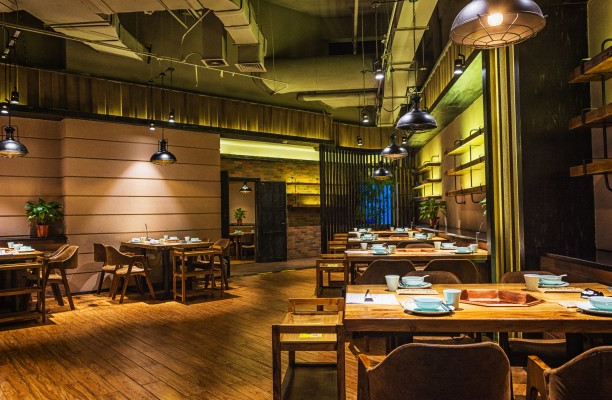 RESTAURANT AND CAFE CLEANING IS OF ENORMOUS IMPORTANCE? HOW CAN YOU ENSURE THE SAFETY OF CUSTOMERS DURING COVID-19?
Restaurant cleaning or Café cleaning must be the top priority of the management as it is a matter of health and safety of your customers and staff members specifically in this pandemic situation. Restaurants are visited by several people every day and to maintain hygiene, management should set a cleaning schedule by professional restaurant cleaning services or hire trained staff for regular cleaning of your restaurant. Another reason why restaurant cleaning is of immense importance is that outlook of your restaurant represents your restaurant to your customers, and for sure no one wants to visit an unhygienic and dirty looking restaurant. If you are not keeping up with cleanliness, then you are also likely to receive penalty or closure notice on next health inspection.
This blog provides you with tips and techniques you should keep in mind while restaurant cleaning or café cleaning to maintain hygiene and safety.
Keep Deep & Regular Cleaning Checklist: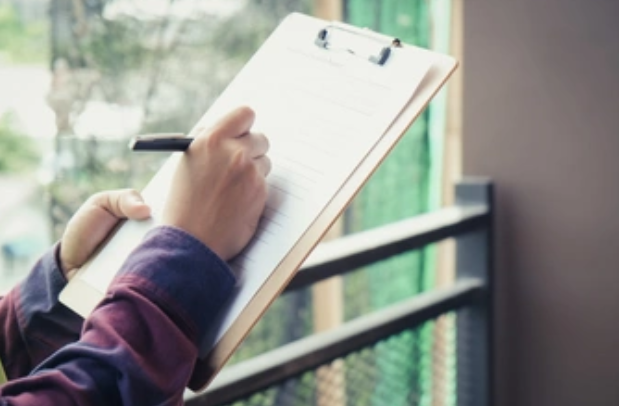 Creating a restaurant cleaning checklist is the first thing you ought to do for regular and deep restaurant/café cleaning. Regular cleaning checklist for Restaurant and Café cleaning must include:
Kitchen cleaning
Kitchen appliances cleaning
Washing all the appliances
Putting all tablecloths to laundry
Replacing tablecloth with fresh ones
Putting food for storage in the refrigerator in properly washed airtight containers
Sanitising appliances like cutting board, slicers, knives
Toilet cleaning
Dishwasher cleaning
Floor cleaning
Sanitising of all surfaces
Emptying bin
Checklist for deep restaurant cleaning must inculcate:
Wash, clean, and sanitise restrooms
Deep clean fryers, ovens, and stoves
Empty and clean freezers
Clean ceilings
Check for the need for pest control
Check dispensers
Check and clean blinds, air ducts, walls, décor
BACK OF THE HOUSE RESTAURANT CLEANING
Kitchen Cleaning is one the most important yet arduous task in restaurants and cafe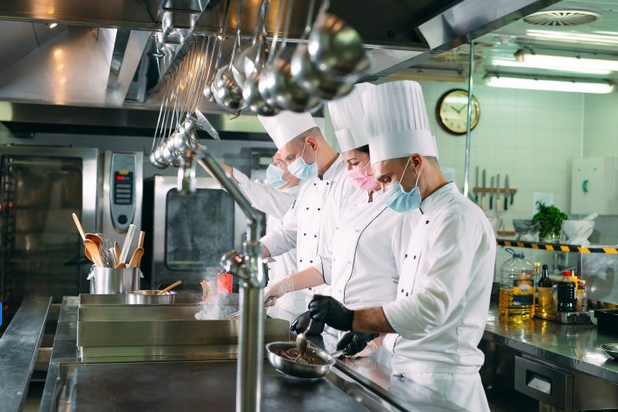 The kitchen accumulates most grease and stubborn stains which need regular cleaning to maintain hygiene and work in a more organised manner. Kitchen cleaning includes:
The smallest stains can ruin your impression on customers and to maintain hygiene you are expected to wash dishes with warm water as it will not only make greasy stains remove easily but will aid in killing germs. The dishwashing sponge should be often replaced. After washing dishes with good quality, dishwashing soap ensure the use of clean cloth to dry dishes. The cloth used for drying dishes should be washed using warm water every day.
Kitchen Appliances & Cutlery Cleaning:
Everything used in the kitchen should be properly clean and sanitised every day or even several times a day if required. Bigger appliances like the oven, stove, refrigerator, and freezer should be cleaned every day to remove greasy. It can be done with the help of soda or vinegar. These appliances should be deep cleaned at least every month. Cutting boards, knives, and cutters should be washed and sanitised often. Knives used to cut meat should be washed and sanitised after every use as it accumulates bacteria. Grills and brushes used should also be washed regularly.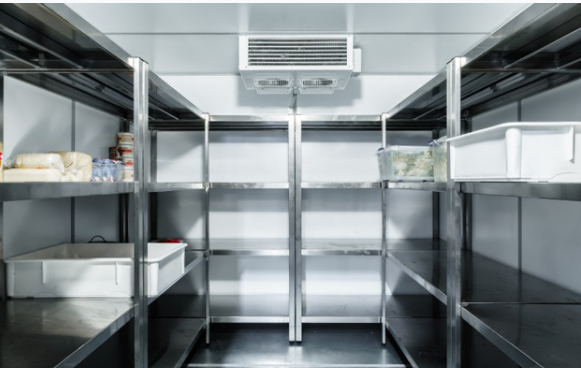 Ensure Proper Food Storage:
Restaurants have to store a large amount of food every day, it is very important to use clean boxes for storage and use air-tight lids to ensure better food quality.
After cleaning the dish make sure to clean the sink, clear the clutter, and countertops for better organised work. First, clear the clutter, then wipe, clean and dry countertops for further work. As the kitchen is always in use, so separate staff members should be appointed with counter cleaning duty, in order to ensure cleanliness, and hygiene without cease in work.
It should be made mandatory for sanitary staff to clean bins on daily basis to prevent smell and germs in your restaurant. Most restaurants don't pay attention to it and then face circumstances like penalties on checking or bad smell all over the place. Bins should also be washed regularly and properly dried before further use.
FRONT OF THE HOUSE RESTAURANT CLEANING:
Keeping the front of the house clean is also important particularly in the present pandemic situation.
Ensure entrance cleaning of the restaurant as it provides the first impression to your customers and since it is used by everyone who enters, it should be cleaned and sanitised several times a day. The entrance door should be wiped using sanitiser and the floor should be mopped and cleaned properly.
Tables/Bar Counter & Chair Cleaning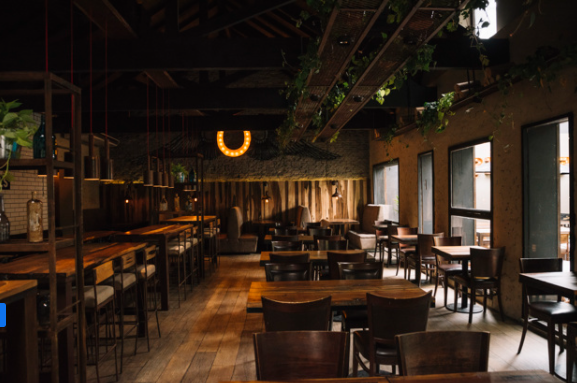 Many restaurants don't pay much attention to table/chair and bar counter cleaning while doing restaurant cleaning, though it is where your customers sit and it can cause the transfer of germs and also create a bad impression on the customers. Restaurant cleaning staff usually just wipe with a wet cloth and that's all but now that can not be considered as enough. It should be made sure that after every use tables and chairs should be cleaned and sanitised properly.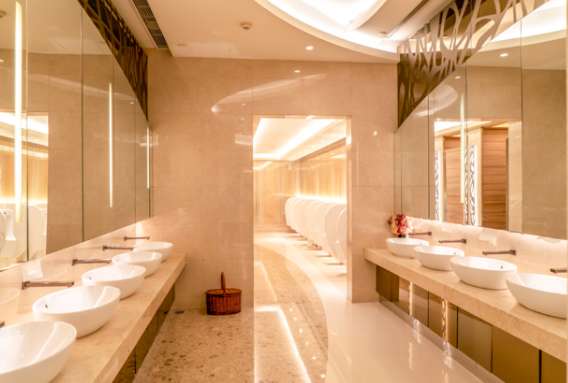 Of course, we all are well aware that toilet cleaning is a very important part of restaurant cleaning and any flaws in it can not be tolerated so it is better to pay much attention to it.
INSTRUCTIONS FOR CUSTOMER & STAFF'S SAFETY DURING PANDEMIC:
Ensure the use of disinfectant wipes and sprays several times a day.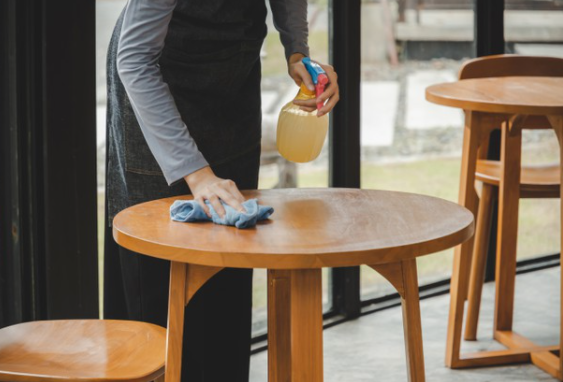 Ensure the use of gloves by everyone, whether they are involved in food prep or waiters who serve food.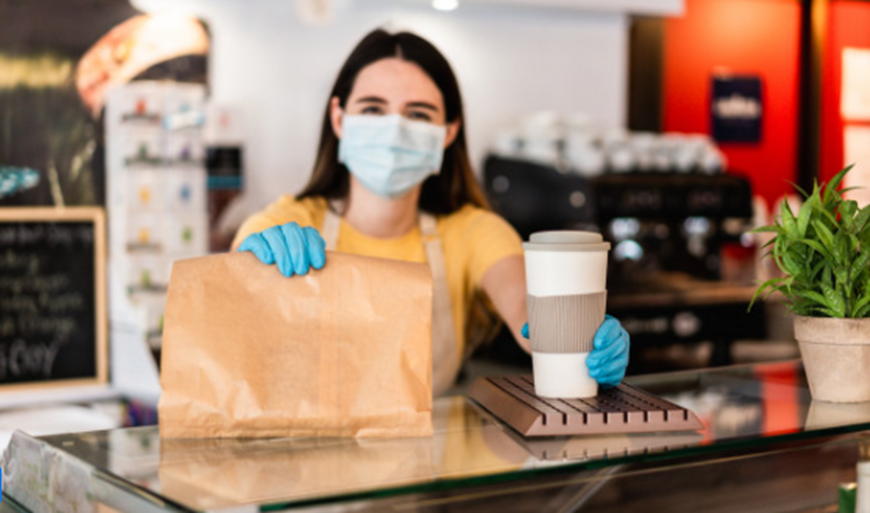 Regular cleaning of high-traffic areas like doors, handles, counters, tabletops, phones, etc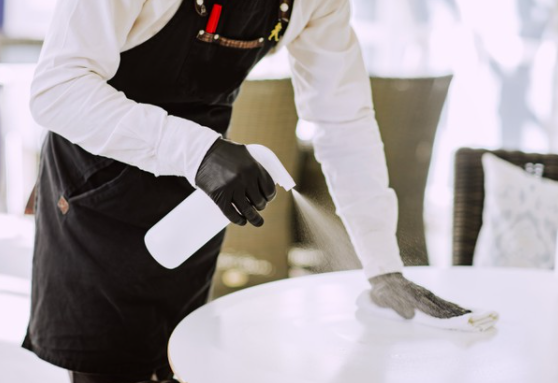 Make masks mandatory for every staff member and customers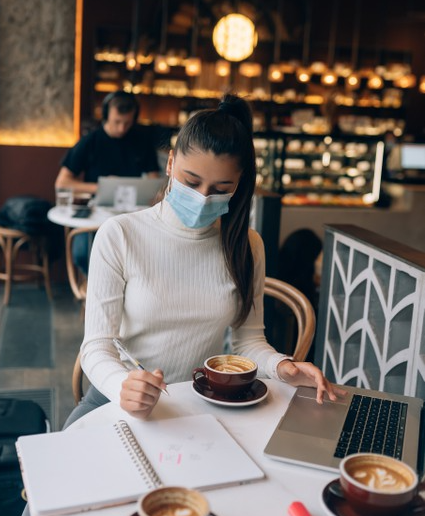 Make use of the no-touch or QR code menu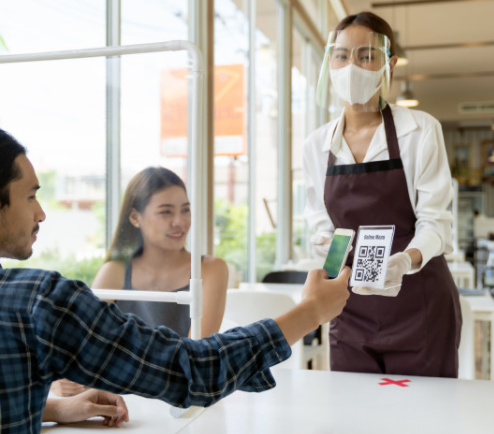 Encourage sanitisation before and after payment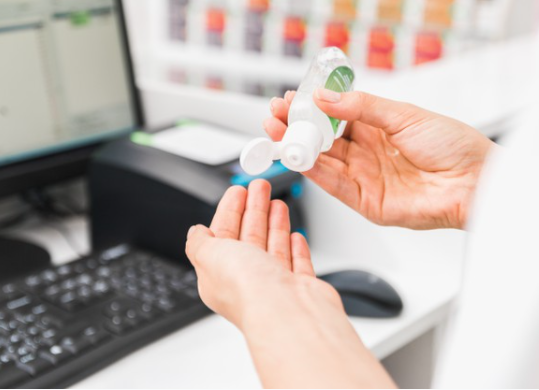 You can also opt for professional restaurant cleaning or café cleaning services to make sure safety of staff and customers.