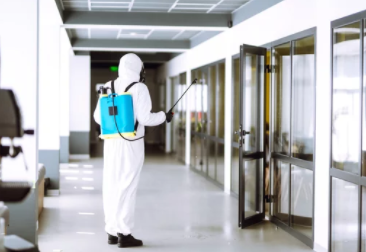 Tips to Keep Your Office Safe during Pandemic
This pandemic has influenced our lives in many ways, and all kinds of businesses are disrupted several times due to this rise and fall of pandemic all around the world. We all have been trying in every possible way to minimise this disruption in our work, and one way to do this is by making sure that the office is safe for all the employees to resume work from the office after facing lockdowns several times. As usually offices are crowded and it becomes really difficult to maintain a safe distance in close indoor office spaces hence they are usually at high risk of spreading diseases. Though we are aware that despite we left no stone unturned we are still unable to get rid of the risk of COVID, all we can do is mitigate the risk of spreading it. Clean N Clear is providing reliable services like disinfection and commercial cleaning in Sheffield and our expertise can be seen in our work.
This blog provides you some tips based on our experience and knowledge which you can inculcate in your regular office cleaning to create a safer environment in the office during this pandemic.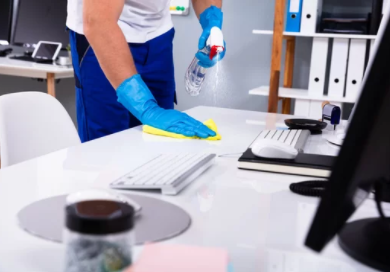 • Clean and Disinfect Your Office More Often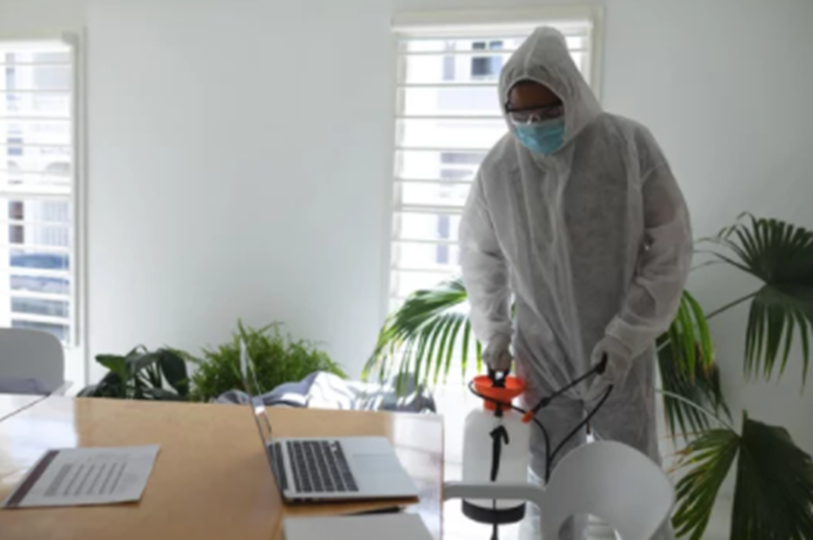 One of the major changes which we all need to incorporate in our offices is to focus more on office cleaning. It is always better to opt for commercial cleaning services which include regular cleaning and sanitisation of your office. Offices spaces which are frequently used and surfaces that are often touched like doors, windows, tables, and counters are prone to spread infections, so they need cleaning and disinfection. If you are looking for commercial cleaning in Sheffield then Clean N Clear offers professional office cleaning and disinfection along with flexible timing to create a safer environment for your employee with minimum disruption to work. Regular office cleaning and giving special attention to disinfection will keep your employees from getting sick and reduce the risk of closing down offices once again!
• Schedule professional cleaning and disinfection services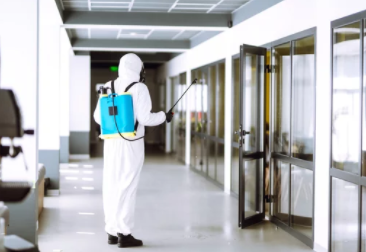 There are many commercial cleaning companies as mentioned earlier which offer flexible timing and services. You can schedule commercial cleaning and disinfection along with tailored services on alternative days or you can choose for regular cleaning and disinfection according to your requirements. In this way, you can ensure the cleanliness of your office and a safer working environment for all the employees. Clean N Clear also offers reliable regular commercial cleaning in Sheffield, you can schedule services according to your needs.
• Make sure everyone wears a Mask in Office Premises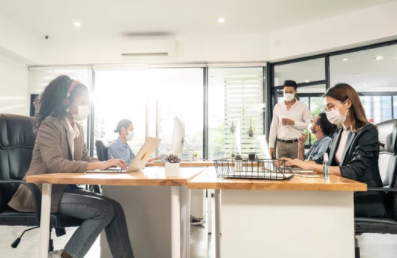 Wearing a mask should be made mandatory in office premises as it is one the most effective way to prevent the spreading of COVID. It is better to set up a strict mask policy in your office to ensure everyone wears a mask all the time during office hours to make it safe for all the employees and clients. As offices are visited by a large number of people, it often becomes impossible to implement social distancing, so it is better to encourage everyone who enters the office to wear a mask. This extra effort will be proven very efficacious in mitigating the spread of COVID. 
• Improve ventilation of your office spaces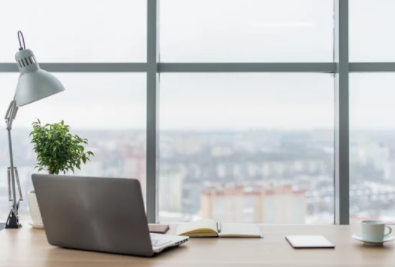 Offices are usually close and crowded spaces, hence are at high risk of spreading viruses, one way to deal with this issue is to improve ventilation in your office. Especially after disinfection, proper ventilation should be ensured. Poor ventilation aggravates the risk of the spread of the contaminants.
• Implement flexible hours policy to ensure social distancing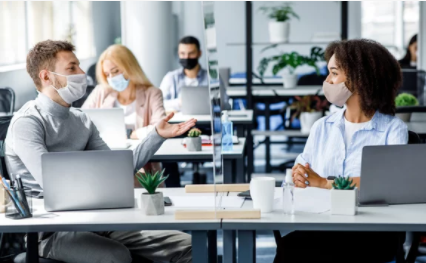 To reduce overcrowding and maintain social distancing you can offer flexible hours and work in shifts. In this way, you can schedule commercial cleaning and disinfection in between shifts to effectively reduce the risk of the spread of COVID. Fix the limit of visitors and prohibit visitors from entering the office beyond that limit to implement a social distancing. It is better if you modify the floor plan to ensure 6 feet distance between each desk.
• Ensure Disinfection of frequently touched places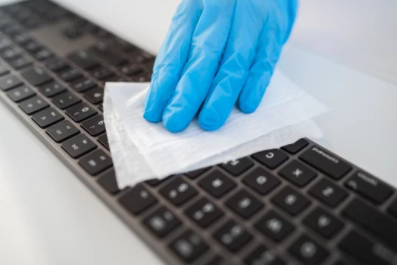 Places like working desks, electronic equipment, doors, toilets, etc are high-touch surfaces and they are under frequent use hence they require proper cleaning and disinfection. It is better to increase the availability of disinfection sprays and sanitisers to avoid the spread of the virus. Another effective method is to schedule commercial cleaning and disinfection, as mentioned above, a professional cleaning team knows how to take care of it, and has experience and equipment to professionally disinfect these high-risk spaces.
Cleaning and disinfecting surfaces, particularly the ones used the most, should be prioritised. Those nooks and crannies are covered entirely by most companies that deal with commercial cleaning in Sheffield. But one tends to overlook these surfaces when cleaning by oneself. The co-operation of work staff ensures a safe work environment, and this guarantees a thoroughly safe space, even if you decide to avail the services of commercial cleaning in Sheffield.
Companies that offer commercial cleaning in Sheffield, take extra care in ensuring these measures are followed, however, it is important for you to follow the necessary steps as well. A significant step from this would be to monitor the health status of everyone at the office: discouraging those who are slightly ill or carry symptoms from visiting the office.  
Clean N Clear thus provides you with the information which helps in keeping your workspace safe during the pandemic. We also offer domestic and commercial cleaning in Sheffield, the best of its kind, so that you remain protected during these trying times of the pandemic. Therefore, you can trust us to provide you with each detail and service that cover all sorts of cleaning, especially commercial cleaning in Sheffield.