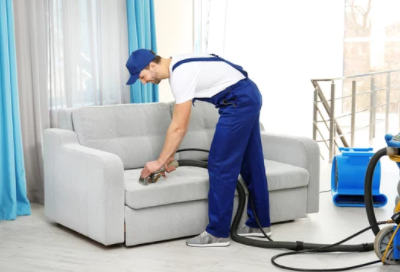 What Are the Most Effective Methods for Upholstery Cleaning?
No matter how regularly we clean our house, some surfaces are impossible to keep safe from dust and dirt. Just like other such hard to maintain things, upholstery needs some deeper cleaning than regular cleaning. Upholstery accumulates most of the dust and becomes home to many bacteria. No matter what fabric or material it is made of, it seems difficult to keep upholstery fresh and clean for a more extended period. Its fabric often gets stubborn stains, and fibres make it even harder to remove. Upholstery cleaning is not only about making it look the best, but it also prolongs the life of your furniture.
Clean N Clear is catering for all kinds of cleaning needs by providing top-notch cleaning services in Sheffield. Our skilled and trained cleaners also offer sofa cleaning and upholstery cleaning in Sheffield. This blog will discuss some very effective methods we've been using for upholstery cleaning. If you have kids and pets at home, these methods will help you with upholstery cleaning. If you want to hire professionals for upholstery cleaning in Sheffield, you can contact Clean N Clear for the most reliable cleaning services tailored to your needs.

Before Starting Upholstery Cleaning Consider These Tips
Fabric on your furniture is very delicate, and if not cleaned by a suitable method, it can be permanently damaged or decolourised.
Before starting with upholstery cleaning, first, check the k manufacturer's instructions, so you don't end up damaging the fabric.
Carefully check tags on the sofa or cushions for fabric cleaning instructions. These tags will tell you if you can wash the cloth with cold or warm water or can you use water-soluble cleaner on the fabric?
Vacuum your furniture to clear all the dust before starting with any upholstery cleaning method.
Upholstery Cleaning Methods
Have a stubborn stain on your sofa? Try out this method.
Mix a small amount of baking soda in water.
Apply the paste carefully to the stain with the help of a clean cloth.
Gently rub the solution onto the stain in circular motions.
Remove the solution from the targeted area with a clean cloth.
If this doesn't work out, you can make a mixture of water, one tablespoon dishwashing liquid, and one tablespoon vinegar.
Apply the mixture using a damp cloth. (Make sure that the fabric you are using will not leave its colour on your furniture.)
After applying the mixture, gently rub on the stains.
Use a dry cloth to remove the residues.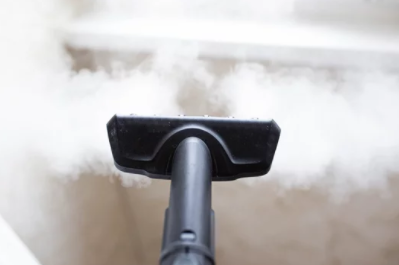 The steam cleaning method is one of the most effective cleaning methods as it uses high-temperature steam to extract all the dust, grime and bacteria from the fibres. Upholstery cleaning using the steam extraction method just takes a couple of hours. Along with all the other benefits, this method is also cost-friendly. First, you need to do the spot test to ensure that steam extraction is not damaging your furniture fabric.
Vacuum your sofa
Start steam cleaning your sofa/couch.
If you have selected a nice sunny day, put it in the open air or under a fan to dry it completely after cleaning.
Be careful while disposing of the water stored in the steamer (it is better to wait till it cools down).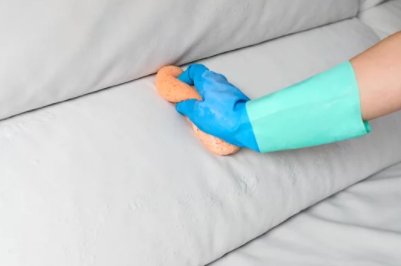 Another easy and efficient method of upholstery cleaning is hand shampoo. Get shampoo designed for the fabric of your furniture.
Mix shampoo in warm water and dip sponge in the mixture.
Using that sponge, wipe your furniture, and move it in a circular motion for proper cleaning.
Note: Rub on the fabric gently. Rubbing cloth harshly can damage the fabric.
 
The dry cleaning method is very much similar to the hand shampoo method, but water is not required in this method. Get a dry cleaning solution, and put it on the sponge. For cleaning, move your hands in a circular motion. This method is advisable for the delicate fabric, which can get damaged by water. Dry cleaning powder can be directly applied or sprinkled on the sofa, and later it can be removed with the help of a vacuum. This method also saves your time in drying the fabric.
5. Hire a Professional Cleaner
Hiring a professional cleaner for upholstery cleaning services can save you a lot of time and effort. They are trained and experienced to deal with all kinds of fabric and have all the equipment required for the cleaning. This is a very efficient way to trust the professionals for this, instead of doing it yourself and damaging the furniture by using the wrong methods. There are many pros to hiring a cleaning company. As most companies now offer their services at flexible hours, you can schedule services whenever you want.
If you are looking for a cleaning company for upholstery cleaning in Sheffield, Clean N Clear provides you wide range of cleaning services. Our services are customisable so that you can select time and services according to your need and convenience. With our experience in providing upholstery cleaning in Sheffield, we know different materials should be cleaned and treated, so you can trust our services and get the best results.