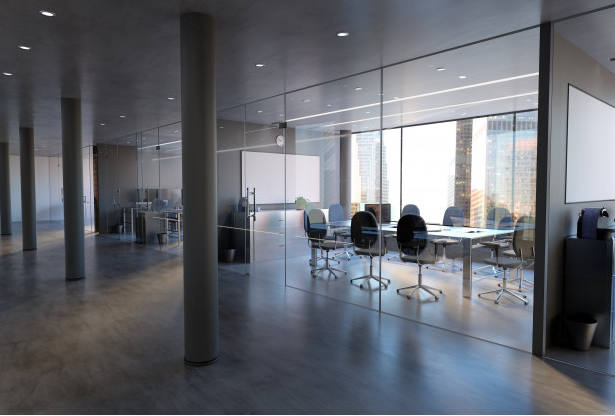 What Does Professional Office Cleaning Include?
It is important to keep your office clean and organised all the time. As cleanliness not only provides a healthy environment for your employees and clients but also creates a better and productive working environment to produce better results without any distraction from the mess.
Professional office cleaners clean all kinds of surfaces and corners to cover your all needs and never overlook a single corner. Office cleaners can adapt to cleaning all types of offices fulfilling all your cleaning reqirements. Many companies which provide office cleaning services in Sheffield offer customised task list so you can select your cleaning priorities.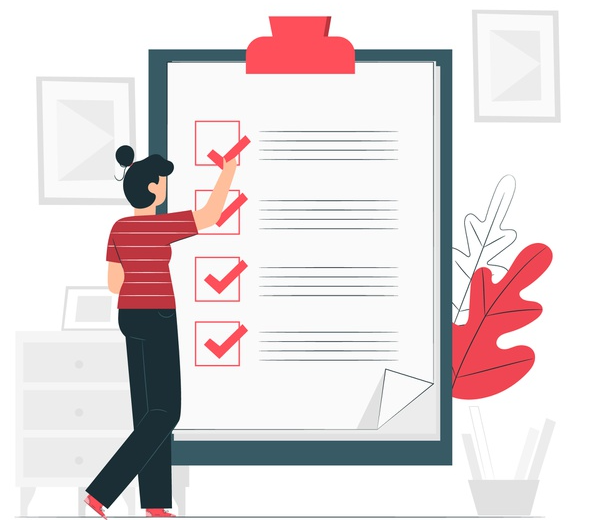 Our professional office cleaners provide the most reliable office cleaning services in Sheffield. Our office cleaners are selected based on prior checks and skill set then trained to provide the best services to you. We offer customised services based on the task list provided by you at a flexible time, so you can select a cleaning schedule without any interruption in your working hours.
Which Services are Included in Professional Office Cleaning?
Professional office cleaning includes daily, weekly, or monthly services including deep cleaning services. Usually, office cleaning services include:
As desks are the most used working space in the office that's why they accumulate most germs and dust and need to be cleaned thoroughly. That's why we start with dusting all the desks with antibacterial spray and wipes, also carefully cleaning computer and other equipment. Drawers, if are not cleaned regularly become home to lots of germs and dust, causing smell. Our professional office cleaners clean drawers and clear all the clutter but never throw away anything without your permission.
A floor cleaning service is usually carried out with professional cleaning equipment to clean the floor without any damage. Floor cleaning consists of washing, vacuuming and if you have opted for deep cleaning service then also floor polishing. Professional office cleaners are experienced in cleaning all kinds of surfaces with an abundance of caution. Our office cleaners use chemical-free and odor-free cleaning solutions to ensure the safety and freshness of the office environment.
The reception area puts the first impression on your clients so it is important to ensure that it is always in presentable condition. We dust all the surfaces with a microfibre cloth to leave no scratch anywhere. We vacuum the reception area leaving no mark of dust in any corner. Then thoroughly clean the reception area, getting rid of cobwebs and dirt. We also clean the reception desk in-depth and leave it fully clean and organised.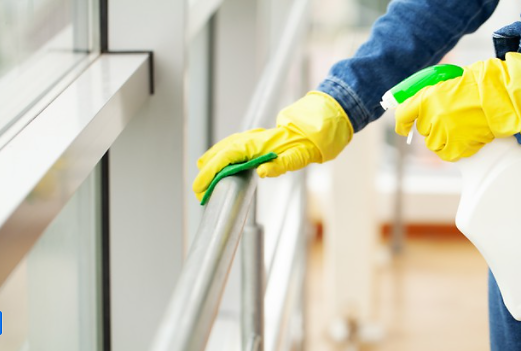 Windows glass accumulates dust, dirt, and grime easily, and if not properly cleaned it looks very bad leaving a pretty bad impression on your clients. Don't take any chances on your impression on valuable clients, and get it professionally clean to make it look new. Professional cleaners mostly use micro-fibre cloth or lint-free cloth to ensure streak-free cleaning on your windows. Our experienced cleaners clean your windows very carefully leaving them free from fingerprints, grime, dust, germs, streaks, and smudges to leave the best impression of your office on everyone.
Washroom cleaning requires extra cleaning and attention. There should be no compromise on the health of your employee, that's why we focus not only on cleaning but also sanitising to keep it germ-free. We will help you get rid of germs, bad odor, and stains.
Office kitchens are always messy and need professional cleaning services to clear all the dust, food waste, grime, and odor. Our professional office cleaners pay particular attention to the disinfection of all kitchen surfaces, floors, equipment, and sinks.
Disinfection is very crucial in places like an office where several people visit daily, it can cause the transfer of a number of diseases and germs that's why it not only requires cleaning but also disinfection. Professional office cleaning often renders disinfection services. We offer sanitising services along with office cleaning services in Sheffield to make it safe from all kinds of infections and viruses including Corona-virus.
Why Choose Our Office Cleaning Services in Sheffield?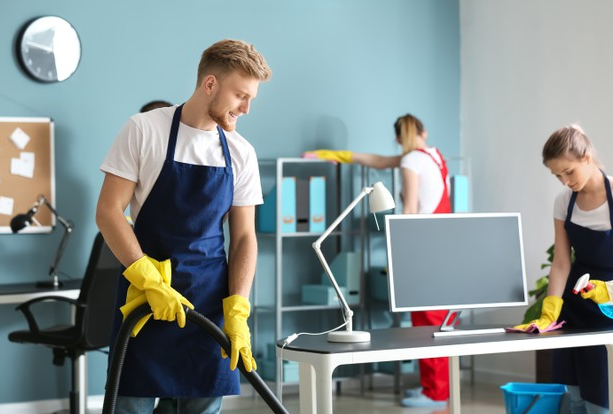 Clean N Clear providers the best professional office cleaning services in Sheffield at affordable rates and flexible timing. Our office cleaning services are best because:
We offer customized services to meet your cleaning requirements.
Our services save your precious time and our office cleaners arrive at the time you decide and leave every nook and cranny clean within few hours.
Flexible scheduling allows you to select a cleaning schedule so your office work is not interrupted at all.
Our cleaning processes are odor and chemical-free so it doesn't require much time to resume your office work.
We bring our cleaning equipment with us and our latest technology cleans all kinds of surfaces, like carpet, wooden floor, glass, or tiles without living streaks or stains.
Our professionalism is depicted in our work. Our team is highly trained, experienced, and professional and leaves everything clean and representable.
If you want to experience a highly professional and high-standard office cleaning services in Sheffield, feel free to contact us!